Use artificial intelligence to sort out relevant documents!
Exploration of Intellectual Property information does not escape the current technological trend: machine learning. The maturity of this technology now allows us to offer you a functionality that could transform your working methods! Meet Orbit Binary AI-Classifier.
Don't limit your searches in the fear of information overload
Most scientific and technical fields are experiencing exponential growth in patent filings, and resources can rarely keep up with this pace. At the moment, the only option is to use filters to limit the scope of the analysis.
AI-Classifier will now allow you to include all information that is likely to be relevant, giving you more opportunity to detect key documents.
Speed Up your information dissemination processes
A process of evaluating 5000 documents can take several weeks. It usually starts with an initial validation taking several days, documents are then forwarded to experts who review and score documents to create the corpus of relevant documents.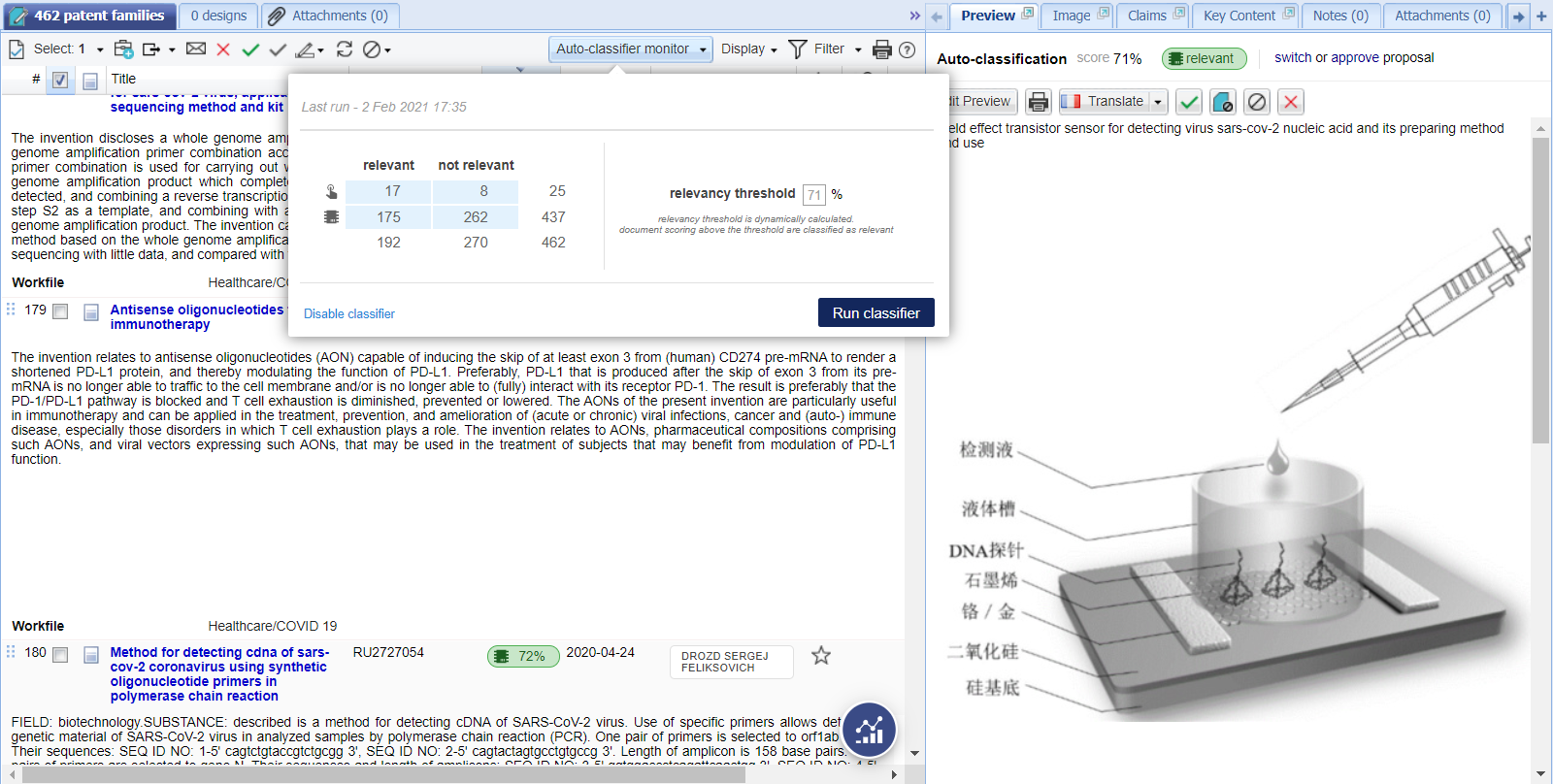 Thanks to the automatic processing of AI-Classifier, results can be obtained in a few minutes by following these few steps:
- Select documents to sort out
- Teach AI-Classifier on a few documents (10 minimum) what is relevant/non-relevant to you
- Launch AI-Classifier using the 'run classifier' to sort out the remaining documents
AI-Classifier has built in artificial intelligence to learn and understand from you! Thus reviewing its choices, correcting it will help AI-Classifier become more and more accurate!
Once you have taught AI-Classifier a few times, you will be confident with its choices, spent as little time as necessary to review them and able to forward its selection of relevant documents to your experts.
The reading time of the experts is precious. When 20 or 30% of the documents entrusted to them are not relevant, this is time that will not be spent on important documents. the new AI-Classifier feature will allow you to limit this risk by optimizing the selection of relevant documents.
Finally, AI-Classifier learns differently in your different workfiles, meaning a document that you judge not relevant in a specific context but relevant for another analysis can be dealt in different workfile.
Please contact your account manager if you wish to have AI-Classifier activated on your account.