New Orbit Trademark interface and features
Expanded Coverage
Pharmaceutical substances and active ingredient names
75 Pharma-in-use and 1 INN/DCI registers have been added.
International Nonproprietary Names (INN) and their French equivalent DCI (dénominations communes internationales) are unique names given by the World Health Organization to facilitate the identification of pharmaceutical substances or active pharmaceutical ingredients.
Each INN is a unique name that is globally recognized and is public property. Now accessible through a dedicated tab it will be of great use to the pharmaceutical industry.

Trademark registers
130 trademark registers are now available, with the recent addition of US States and Turkmenistan trademark registers.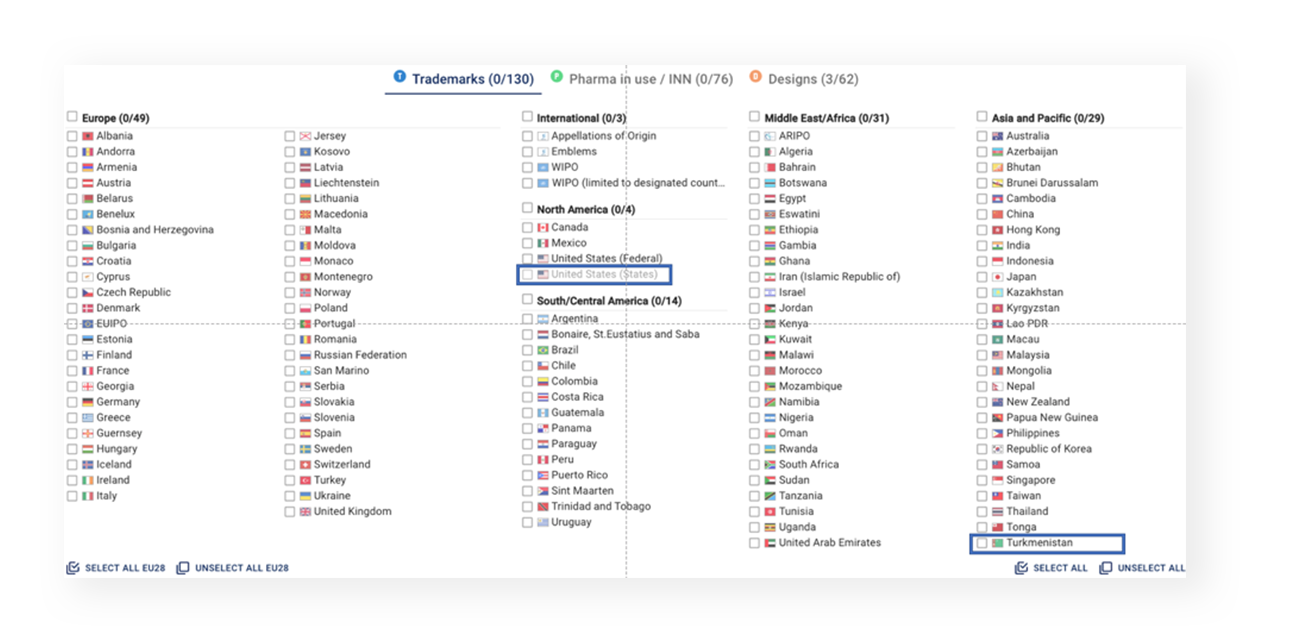 Improved Search and Result Display
Engine speed boost and noise reduction
Search speed has been drastically improved, particularly in the case of a similarity search.
Accuracy of similarity search has increased, thanks to better trademarks indexing and searching methodology, reducing considerably the number of irrelevant hits.
Search criteria
Two new fields have been added to the multi-criteria search menu: "Brand exact" and "Applicant/Owner country code" to allow for more precise search strategies.

Default search mode "AND" instead of "OR"
In "Multi criteria search mode" and "Filter", when no operator is specified or when a space separates two consecutive terms within the same search criteria, the AND Boolean operator is used by default.
The AND Boolean operator is also the default setting between the search fields Brand / Owner / Applicant / Owner / Representative / Goods and Services. In the past, the default operator was OR.
For all numbers, status, (….) the default operator remains OR.
Drill down filter
Users can now filter their result grid using the Drill down filter, to readily access most relevant information.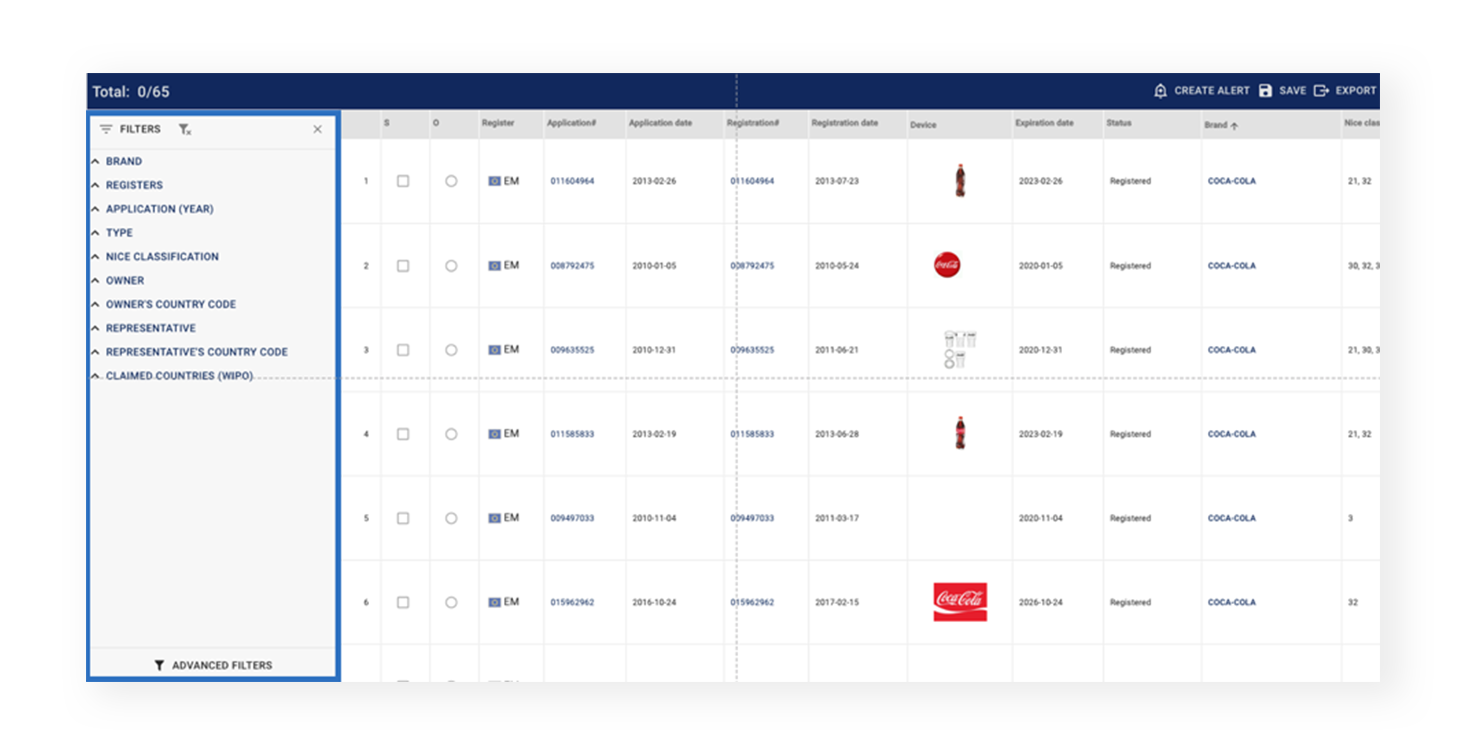 Filter column
Using the column header filter, the result grid can be narrowed down to fit users need for rapid access to relevant data. (Feature comparable to Microsoft XLS report).
Please note that the existing advanced filter is still available on all search criteria.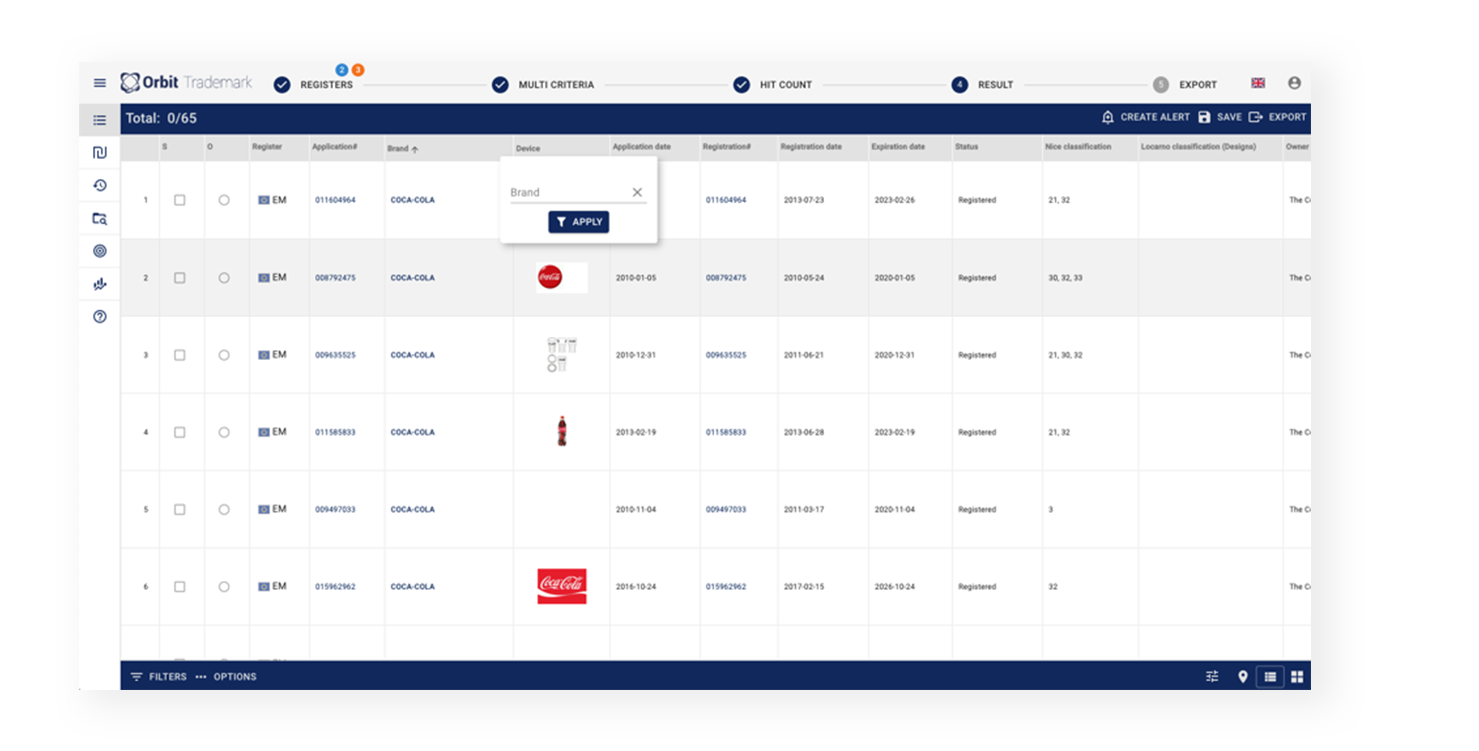 Shuffle column reorder
Column order can now be changed by dragging column headers up and down in the settings menu, allowing users to fully customize the table to their needs.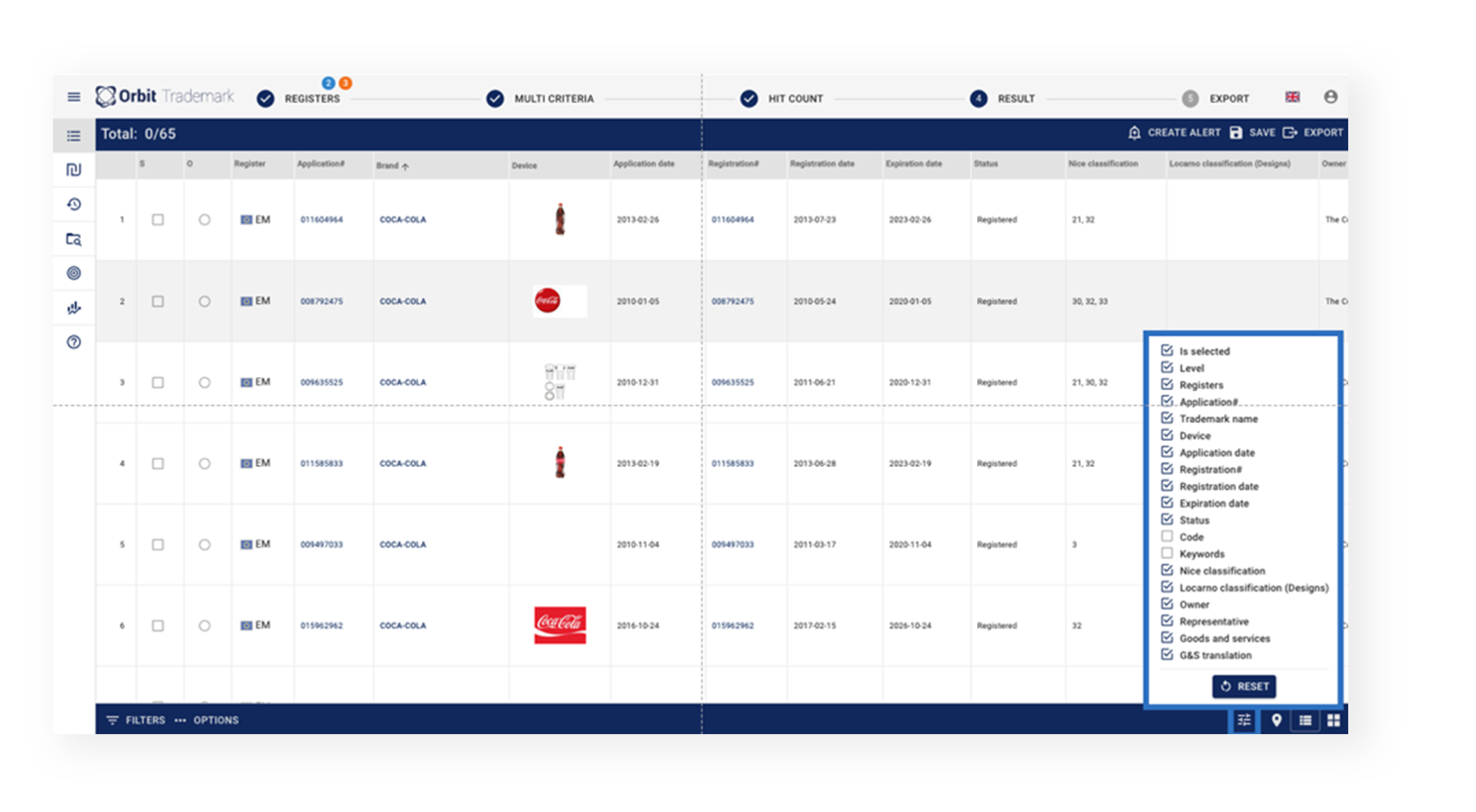 Similarity search parameter display
In the result grid of an advanced similarity search, searched trademarks and associated classes are now displayed in the header of the grid, making the comparison between results easier.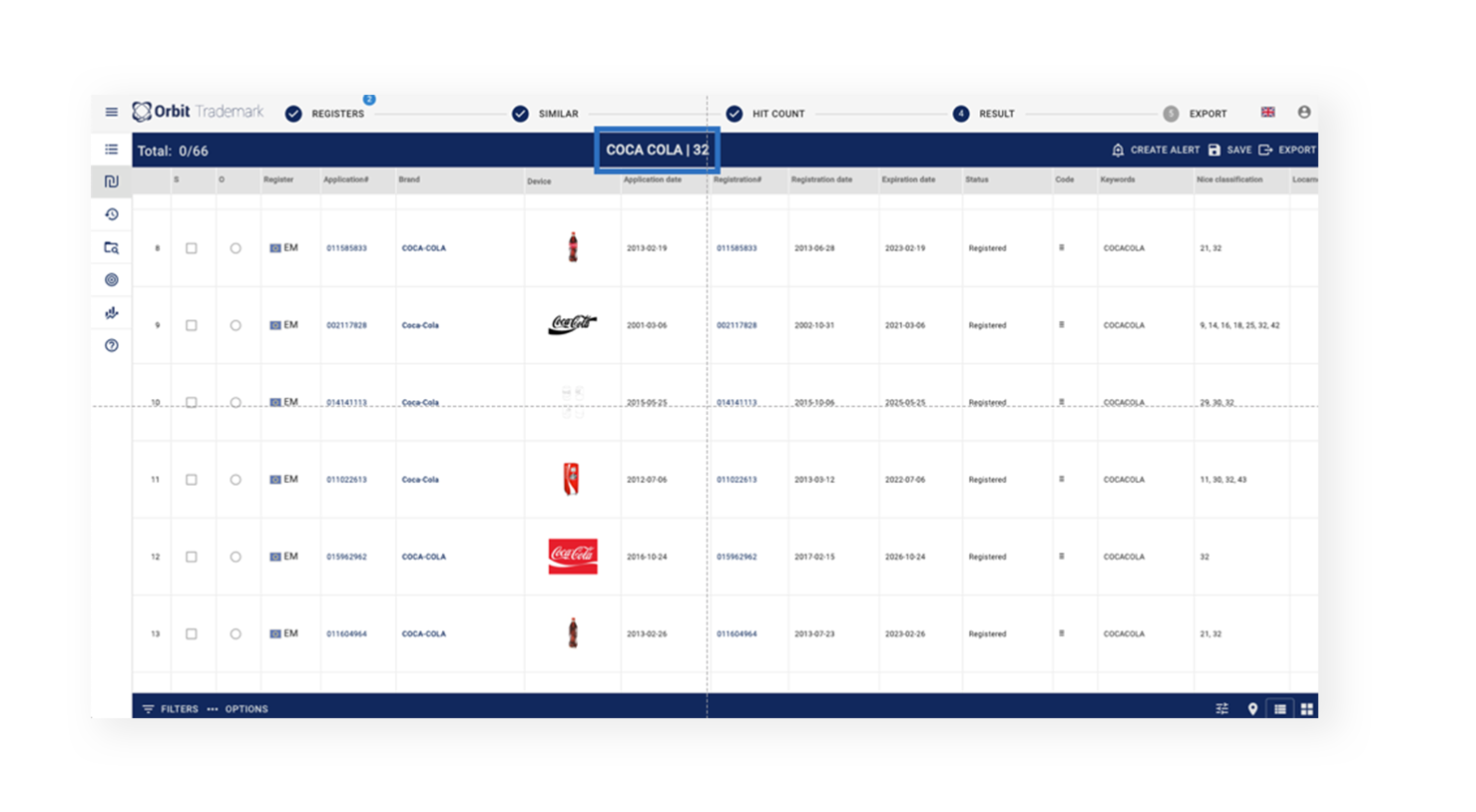 Workflow bar display
In main modules like Multi-criteria searching, Similarity searching and Analytics, users can now see the workflow steps at the top of their screen, guiding them through their process.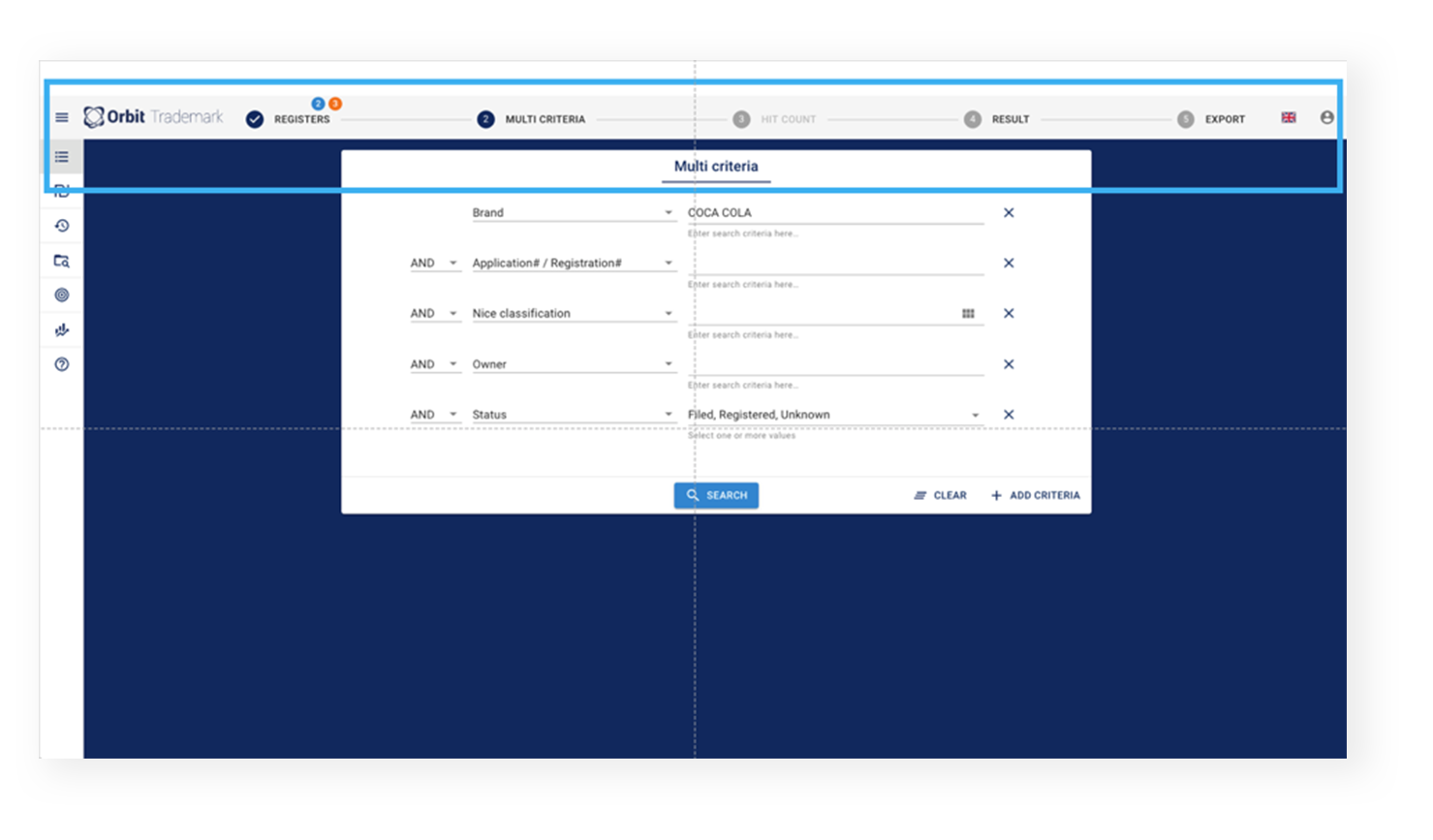 Icon menu
On the left side of the screen, different modules are accessible. This menu can be reduced to icons.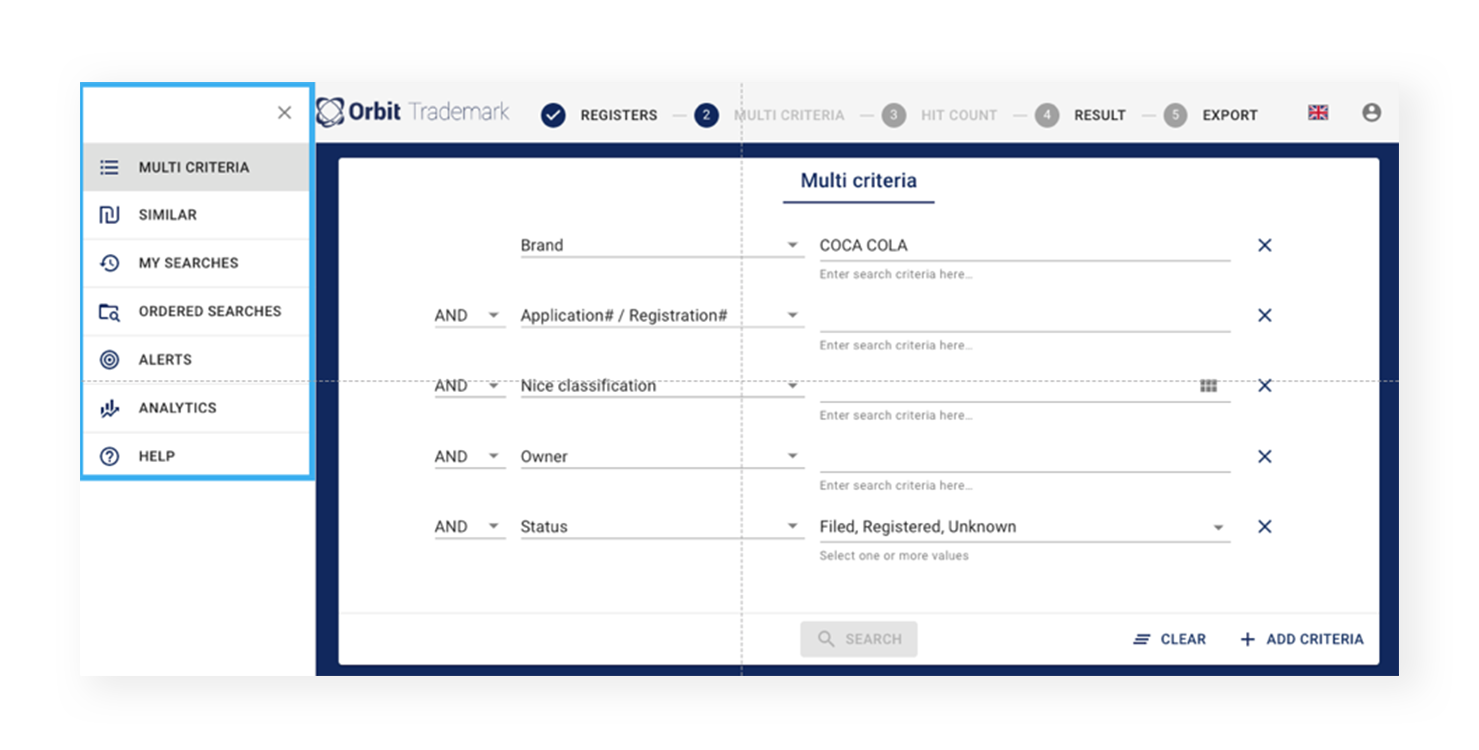 Enhanced Analyses and Reporting
World Map result view
The World map provides a quick yet good overview of trademarks across the globe, based on search criteria. This view is particularly useful when searching by owner or brand.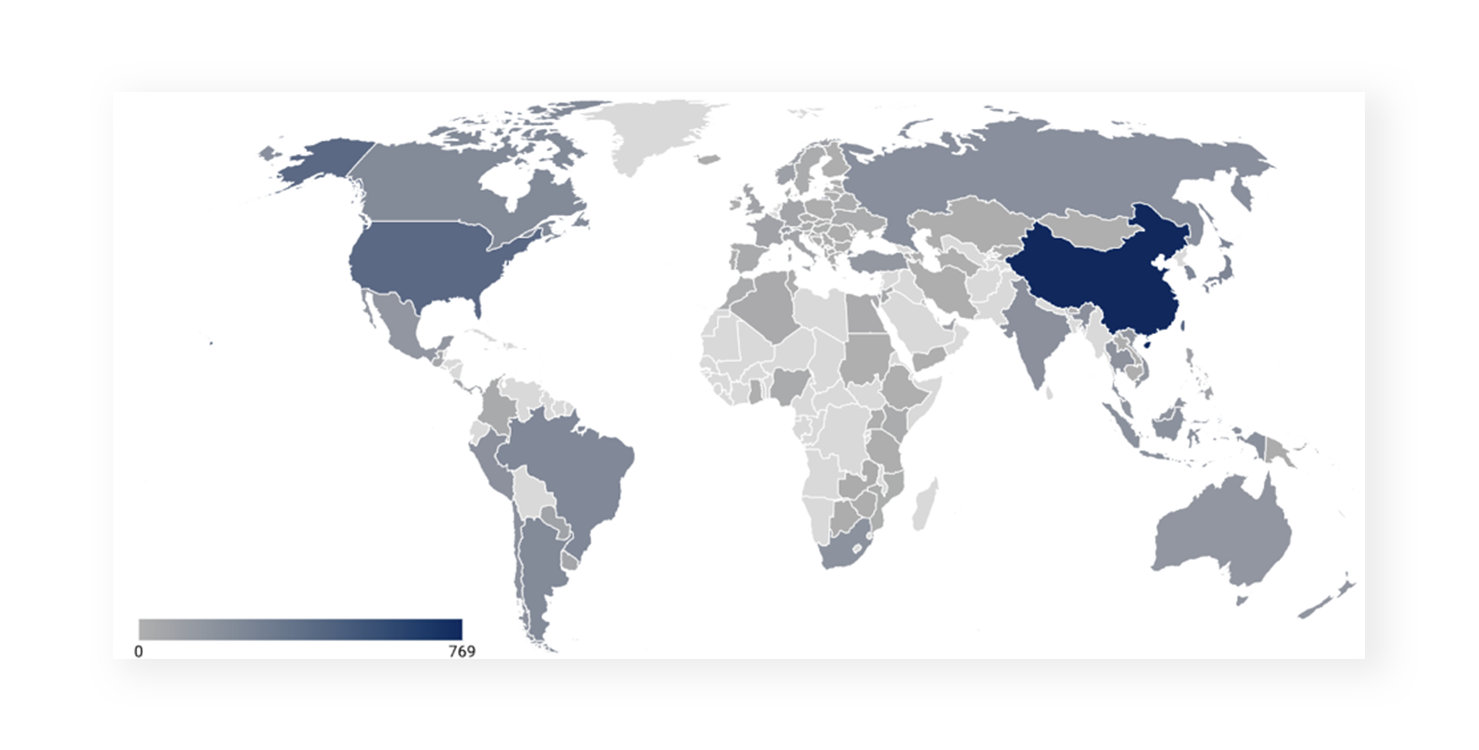 Improved analytics screen
Brand and Words can now be selected as analysis parameters. All parameters are now grouped on the same line for greater ease of use.
Customizable Excel reporting
Excel report templates can now be created. With the new feature "Add a new column" users can select information to export. Several fields can be added in the same column to create compact reports.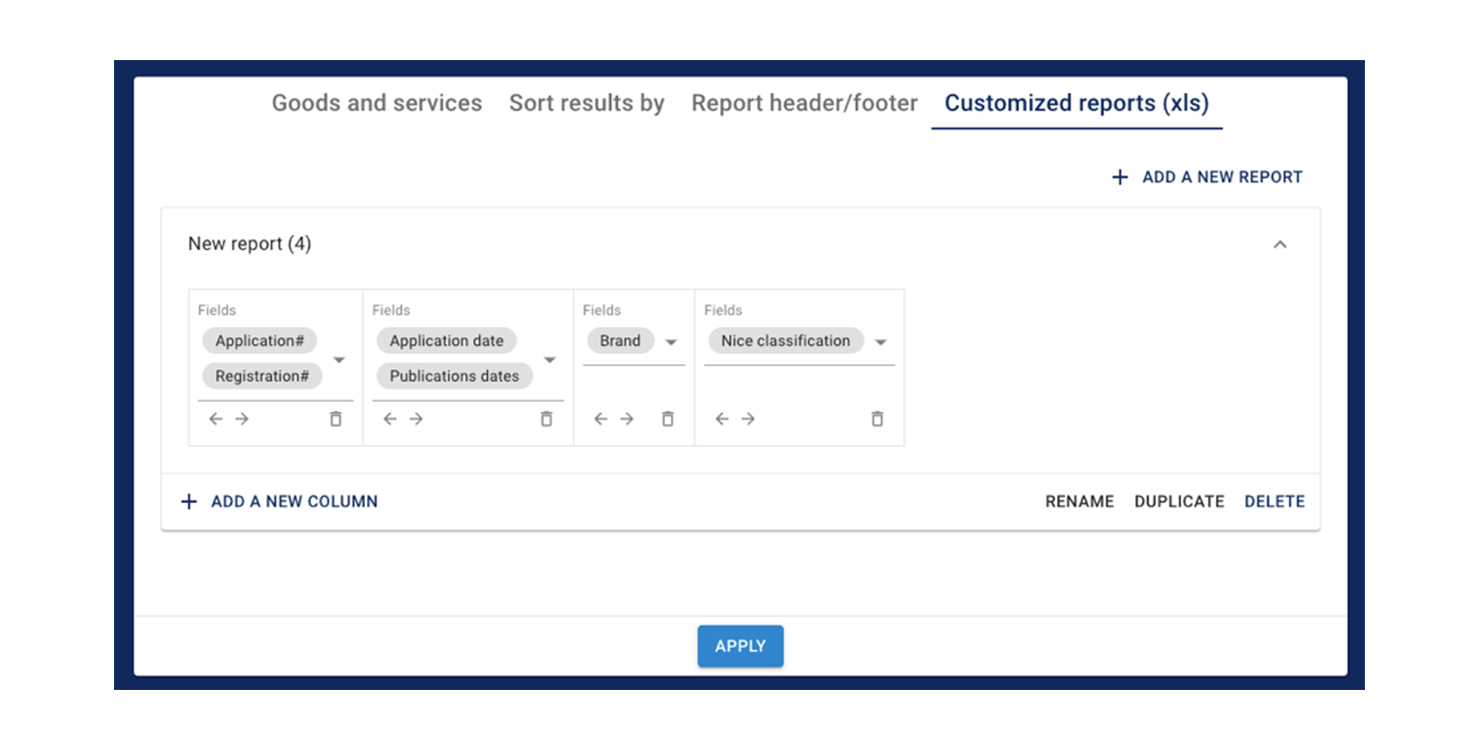 Hyperlinks to up-to-date trademarks now in reports
In all Word, Excel and PDF reports, users now have the possibility to click on the application/registration number and have full access to the trademark updated view (internet access required).
ALL HITS