Non-Patent Literature Archive
Why search scientific literature alongside patents?
When it comes to prior art searches, patent databases are essential. Orbit intelligence offers the most comprehensive patent family database available. However, patents cannot be the only source for patentability and novelty searches. Other (non patent) publications ought to be checked, because any non-protected publication could jeopardize the patentability of an invention. As a matter of fact, patent Examiners often cite non patent literature articles (NPL) as valid prior art to reject patent applications.
It is therefore key to include NPL in prior art searches to avoid incurring unjustified drafting and filing costs for inventions that cannot be protected.
Scientific publications often originate from academics working on the next innovations and technologies. They usually precede patents which do not publish before 18 months after filing. It is thus important to cover scientific publications to anticipate the future hot technical innovation spots and who are the key scientists and organizations working on such topics.
With this in mind, Questel is aggregating relevant scientific literature to help you find the gem you are looking for. Whether it is published in journal articles, books, clinical trials or grants, we are gathering all this information in one place.
Orbit Intelligence – Patent and Non-Patent Literature
You can now view Non-Patent Literature (NPL) directly alongside your patent results within Orbit Intelligence. Simply click on the Non-Patent Literature tab in your results set to access this new content.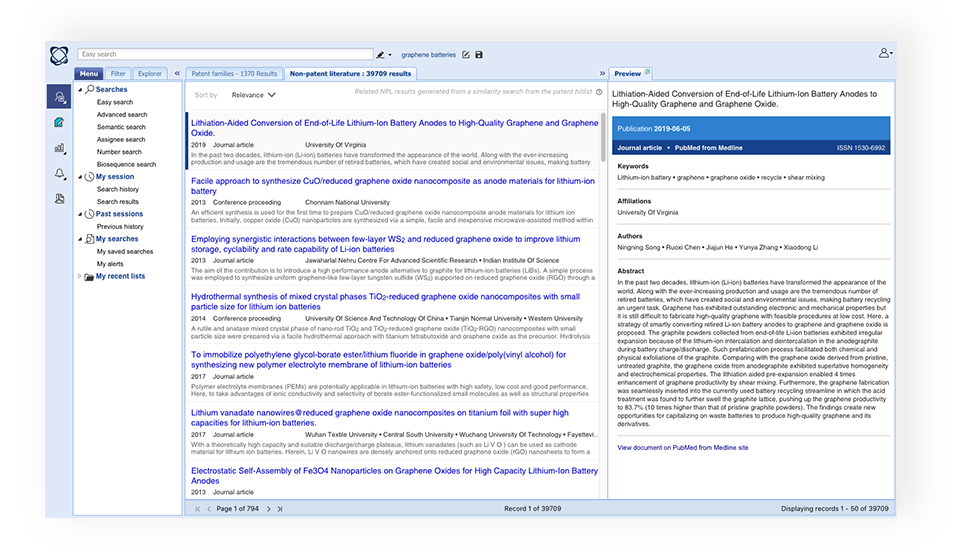 Data coverage
Questel's Non-Patent Literature archive includes:
150 million scientific publications from more than 50 000 journals and reviews.
322 000 clinical trials.
260 000 grants and collaborative projects.
The archive is updated bi-monthly.
Psst…! Our Non-Patent Literature archive will continue to grow, don't miss out on our future announcements.