Renewals Management
Best in-class financial feature to never miss a payment and manage your payment services. Our cost-effective IP renewal solution is smarter with superior integrity and transparency.
Process Efficiency
Orbit Asset now handles full interactions between Provider, Agent, PTO and Questel, from handshaking to tracking. Allowing you monitor who, when, and what easily, through comprehensive data exchange and integration.
Workflow Orchestration
Accomplish more with comprehensive workflow, giving you the ability to HOLD payment and abandon a case or a family.
By configurating lifecycle with review and payment periods, cut off days, alerts and deadline reminders, you will be able to handle more efficiently urgent request, and last-minute processing of IP renewals.
Monitor your payment processes easily thanks to structured lifecycle workflows. Divided in four stages, it automatically moves from one stage to the next as the months go by, giving you an always up-to-date vision.
Save time by optimizing team effort with the automation of tasks, and through readily available smart insights in dashboards and reports.
Fee transparency
Never miss a payment, simply display fee with breakdown paid-till-date, remaining fee by case/ family.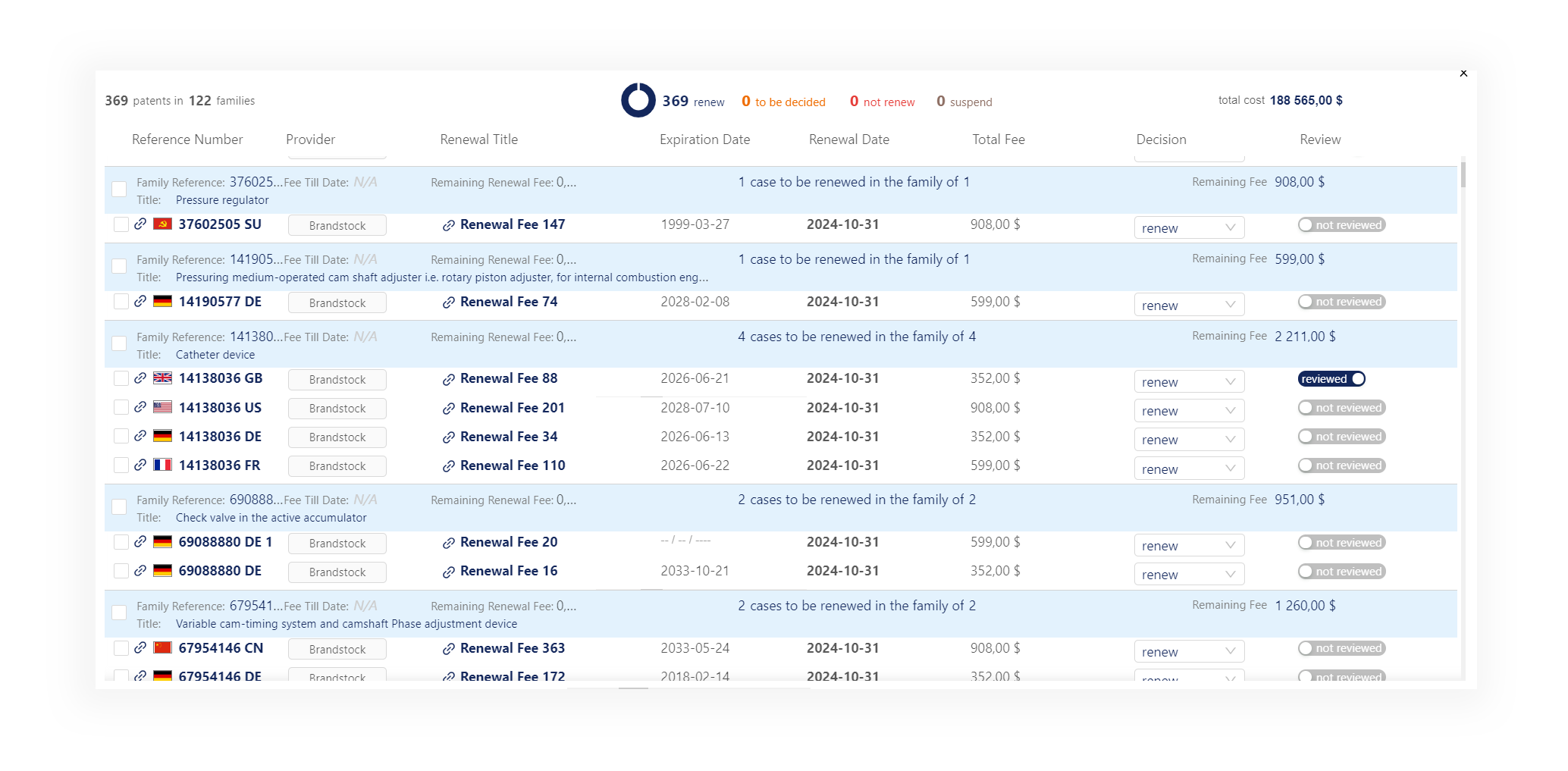 Anticipate your finances with real time fee due calculation, including late payment charges.
Stay ahead visualizing renewal and payment confirmation made available from PTO Office.
Answer strategic business questions
Managing fee renewals often touches upon the strategy of your business. Answering questions such as "Are there some patents that shouldn't be renewed?" is key and can greatly cut down your costs.
If the business aspect interests you, Evaluation modules found in Orbit Intelligence will save you a great deal of time. These modules are an assortment of interactive smart charts which segment your portfolio, isolate less relevant and non-essential patents for pruning. It also highlights licensable art, would you rather license out over pruning.