US Reasons for Rejection
Spotting key blocking patents cited by USPTO Examiners
Carved out of US file wrappers, reasons for rejection are key information given by US examiners. Now readily available in the citation tab, you will find publications cited as a reason for rejection. Furthermore, the citation will be associated with its rejection type.
Rejection type can be any of the following:
102: Non-novel subject matter
103: Obvious subject matter
DBL: (101) Double patenting, claim is anticipated or obvious in view of another claim in a separate patent filed by the same applicant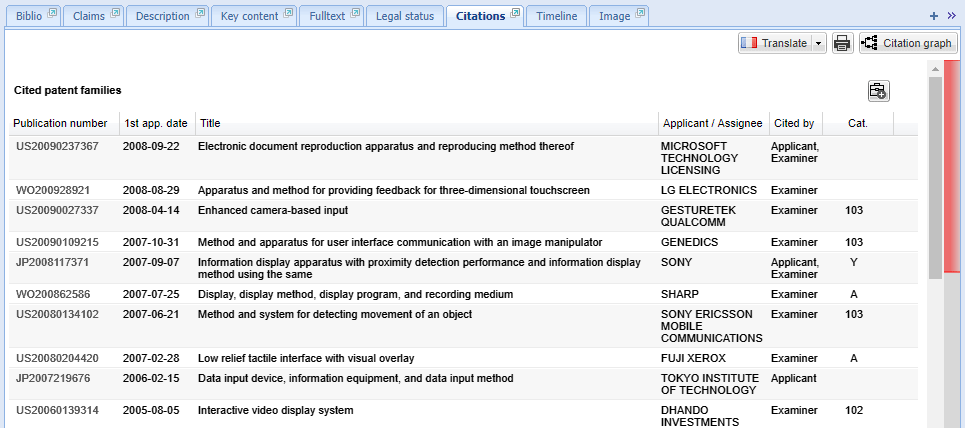 These US reasons for rejection will come to enrich analyses of examiners' citations especially when reviewed alongside EPO Examiner citation categories (X, Y, A, etc.) also present in the citation tab.
Legal Status
If you wish to dive deeper into reasons for rejection, the legal status tab will display even more information, including the Rejection Date (RJD), rejected claims number, rejected citation (RJCT) and an indication as whether the Examiner's decision is final or non-final (RJST).
Legal status will also display a second level of rejection type all listed below.
100: Definitions/America Invents Act (AIA) provisions
101: Subject matter non-patentable

101ACL: ALICE, the invention does not amount to significantly more than an abstract idea
101MM: Myriad/MAYO, claims are held to claim a law of nature, a natural phenomenon or a product of nature

102 A-G:

102a the invention was known or used by others in this country
102b the invention was patented or described in a printed publication in this or a foreign country
102c the inventor intends to abandon the invention
102d the invention was first patented or caused to be patented by the applicant more than 12 months before filing the application in the US
102e the invention was already described in a filed application
102f the applicant/inventor did not himself invent the subject matter sought to be patented
102g another inventor involved establishes that the invention was made by himself/herself and not abandoned

103 A-C:

103a: The disclosed invention is too similar to prior art
103b: The disclosed invention is too similar to biotechnological prior art
103c: The claim is being rejected due to secondary reference (e.g. joint research agreement…)

112: Subject matter in the claims are indefinite or not properly disclosed in the specification

112a: Features in the claims are not disclosed in the specification or drawing
112b: Specification does not point out distinctly the claimed invention
112c: The claim form is rejected (dependent, independent…)
112d: The claim in dependent form is rejected due to reference (or lack of)
112e: The claim in multiple dependent form is rejected due to reference (or lack of)
112f: The element in claim for combination is rejected

121: Two or more independent and distinct inventions are claimed in one application
All definitions above have been simplified for readability purposes, detailed descriptions can be found on the USPTO website.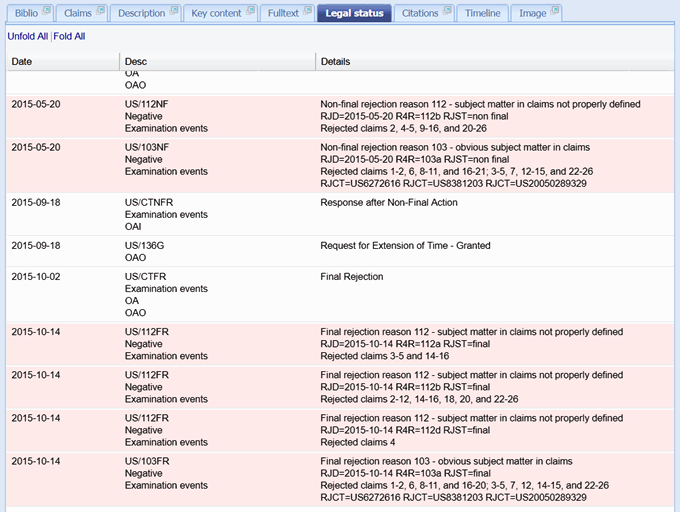 Search
Citation search
Interested in retrieving documents with reason for rejection? Simply search for CAT/CTN=102 or CAT/CTN=103 or CAT/CTN=DBL and retrieve corresponding documents. For example, if you wish to retrieve documents rejected for obviousness in both Europe and US, simply type CAT/CTN=103 AND CAT/CTN=Y.
Orbit Intelligence already provides all of the following EPO citation categories: X, Y, A, O, P, T, E, D, L. Not familiar with EU rejection codes? We invite you to read this simplified PDF written by the EPO or go into the full details here.
Legal Status search
To go further, you can search in the legal status. This level of search provides the additional categories that do not cite any other documents (101, 112…) as well as whether it is a Non-Final (NF) or Final Rejection (FR).
You can search for any of the following codes: 101NF, 102NF, 103NF, 112NF, 121NF, 101FR, 102FR, 103FR, 112FR, 121NF, DBLNF, DBLFR, 101ALCNF, 101ALCFR, 101MMNF, 101MMFR
DBL stands for double patenting, ALC for Alice, MM for Myriad/Mayo.
Examples:
Searching for CO/ACT=US/101+ will retrieve all documents with a citation 101 regardless of its sub-category.
Searching for CO/ACT=US/101ALCFR will retrieve all documents with a citation 101 Alice that is final.
Searching for CO/ACT=US/103+ AND Microsoft/PA in Fampat will retrieve families with reason for rejection 103 (final and non-final) where Microsoft is an assignee.