Leading IP in turbulent times
One stop IP services and a unique solution for cost reduction and control
Insights on IP initiatives ready to be deployed
Questel's centralized model: a full cost control solution

Let's talk about IP cost optimization for 1 min!
Today, we will focus on how to do as well or better with less. Check out Viviane Chilton's expert advice.
Viviane has 20+ years of international experience spannings the entire IP lifecycle, from IP portfolio management to licensing and infringement litigation, working with industry-leading companies across a variety of technologies.
Reduce complexity and save costs in your Patent and Trademark processes
While you are tasked with managing your IP budget, Questel will help you to do more with less by streamlining your international filings, saving you of 20 to 40%.
Watch the video to learn how Questel will:  
Check and analyze every line of your invoice data
Identify opportunities for cost savings
Help you determine the proper price for each IP service
Review and control the high volume of invoices
Fill out the form to watch the video
centralized translation process: obtain the highest quality standard, speed and value
Let's talk about centralized translation process for 1 min!
Today, we will focus on how to ensure high quality, cost-effective patent translation with a centralized model. Check out Caroline Chenique's expert advice.
Caroline has over 20 years' experience working with many of the world's leading organizations to improve their approach to patent foreign filing. Her focus is on quality, lower costs and streamlined processes through centralized filing and translation services combined with ongoing cost management.
Centralized IP translation process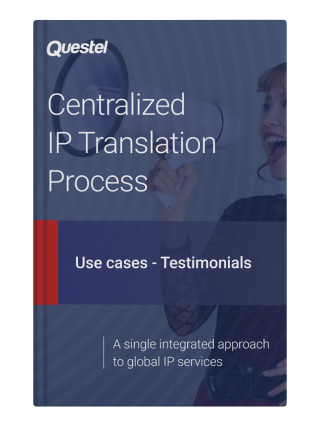 Read about the shared experiences and challenges of our clients
Questel Translation (formerly known as MultiLing) is the premier global provider of intellectual property language translation and support services, serving the world's most demanding and sophisticated patent filers in over 200 unique language pairs.
With the development of Savanta™, an innovative, intelligent cloud platform designed specifically for IP translation, and as pioneers of the industry standard centralized model for translation, Questel Translation continues to raise the bar for quality, customer satisfaction and innovation.
In our eBook you will discover how we can help you leverage strategies to reduce risk, cut costs and simplify your entire process.
Access 3 of our clients' use cases: 
Brinks, specialized in private security and protection
Procter & Gamble, a multinational consumer goods corporation
Teradyne, a developer and supplier of automatic test equipment
Cost reduction in the validation of European patents
Let's talk about validation of European patents for 1 min!
Today, we will focus on finding the most cost-effective way for managing EP validations. Check out Olle Backlund's expert advice.
Olle is a patent attorney and founder of Direct validation, a Questel company.
Discover how to protect your patents in Europe and what the European validation process entails!
In this course we will cover the requirements for EP validation, how to delegate tasks and streamline the process, and how best to minimize costs.
Learn from our experts and certified patent attorneys who have over 30 years of experience in the industry. Questel is a true end-to-end intellectual property solutions provider to more than 5,000 clients and 1M users across 30 countries. We offer a comprehensive software suite for searching, analyzing and managing inventions and IP assets.
Our video is designed to help educate, accelerate, and inform attorneys on the protection of patents in the European market.
Fill out the form to watch the video
Fill out the form to speak with our experts
Book a fREE consultation with our experts
A unique IP services platform.
2000+ experts, translators, agents all over the world.
Keep up to date on our latest news and discover best practices through webinars, interviews with experts, eBooks, articles and testimonials.