ELM Data Integration Service
LEGAL OPERATIONS SERVICES
Seamless data source integration connects the entire business
Connect all business data flows for transparent analysis
Eliminate data silos with expert ELM data integration service connecting all business system data flows and provide analytic insights to the entire business ecosystem.
expert data stream integrations with existing business systems
Using ELM Data Integration Service, all business data captured by your existing systems can be integrated into Ascent ELM. Our experts learn your business challenges, goals, and needs to ensure the right data is available when and where it offers the most impact. 
ELM Integrations seamlessly feed into all business systems to enable true data-driven decisions based on real-time information. Your legal solution can now translate disparate data into actionable insights that answer strategic business questions.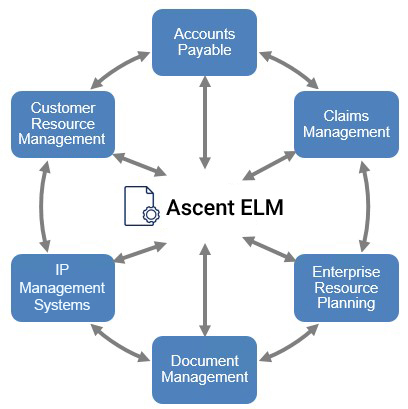 Deliver collaborative visibility in one place
ELM data integration service connects workflow & data
Ascent ELM Integration Service unlocks the full potential
of your ELM solution with smart data, intelligently delivered.
Business Interface and Data Integration Service
Capture, translate, and pass data from supporting applications such as Accounts Payable, IPMS, Claims, Document Management, CRM, ERP, and more directly into the Ascent ELM software. Our experts work with your business teams to provide the most applicable interfacing strategy through API, Web Services, or Flat File feeds into a single information resource. This additional service provides for a more transparent and collaborative business position for all involved business units by eliminating the need to manually manage multiple data inputs, translations, and transfers. 
.
Let's talk about your Legal Operations needs and how to overcome them. A demo will be customized for you!
Get answers to your unique questions, and find out why Questel is the right choice.