ASSET MANAGEMENT SOFTWARE
Use Blockchain-based technology
to timestamp your IP assets
When using Orbit Blockchain
PATENT & TRADEMARK
Secure ongoing inventions, patent prosecution/trademark under registration and document evidences of use. 

COPYRIGHT & KNOW-HOW
Establish authorship/ownership by leveraging the proof of existence as proof of anteriority.
TRADE SECRET
Establish a reasonable method to document all your confidential data and priors use, all without revealing the content of your trades secret while timestamping.
Your file is encrypted and store in a blockchain, a digital, immutable, and ditributed ledger that chronologically records transactions in near real-time ans which is secured by advanced cryptography and consensus mechanism.
Upload any kind of file without limitation of size or format.
We generate a cryptographic fingerprint, its unique identifier
We store the cryptographic fingerprint in the Blockchain.
The proof certifies that your file has existed ata precise date and time.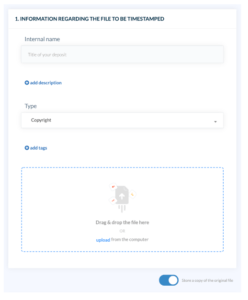 Timestamping of documents in just a few clicks
All you have to do is drag and drop your document, whatever its size or format, complete the information and manage any co-holders. With one click, your document is time-stamped on the Bitcoin Blockchain.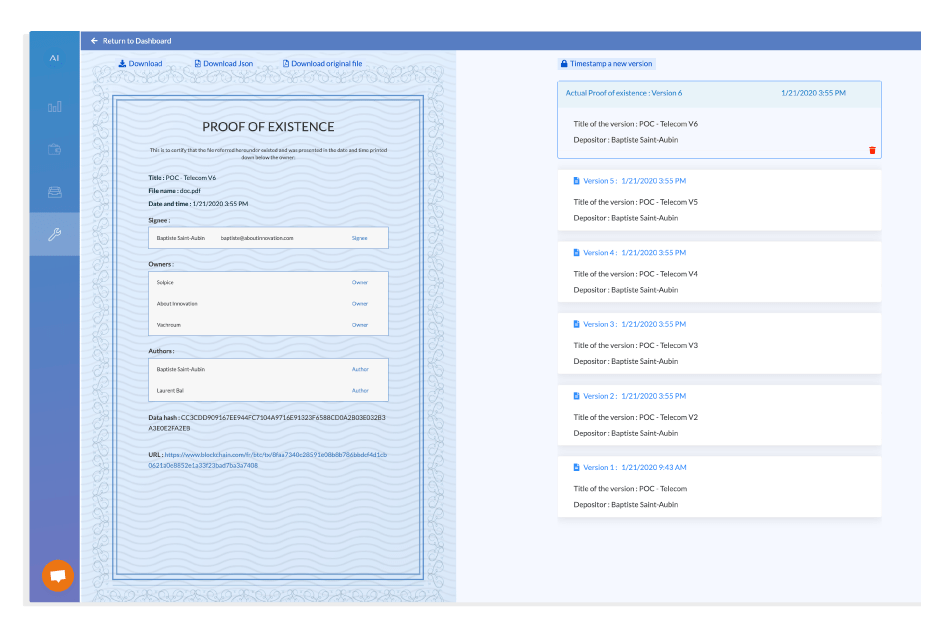 Get your proof of existence certificate in a few minutes? Organize the traceability of the creative or inventive process in your organization by grouping your certificates in a dedicated library.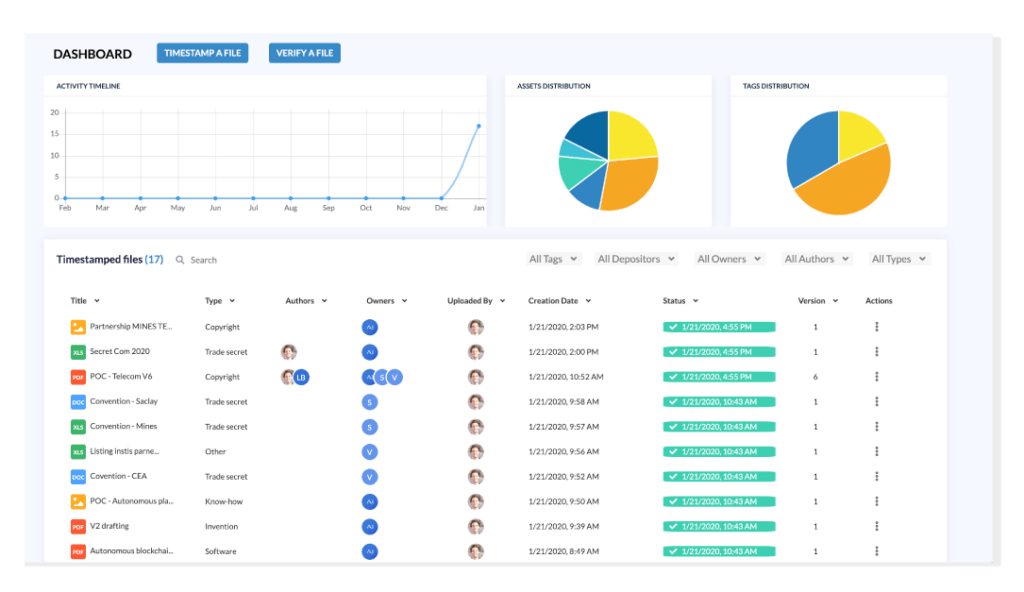 Track the history of your timestamps by business unit and by manager. Search by depth to find an item. Easily export graphical performance indicators
​Let's talk about your IP business.
A demo will be customized for you!
Get answers to your unique questions, and find out why Questel is the right choice.