Collaborative innovation management software Encourage your employees and their ideas to uncover tomorrow's innovations
innosabi Idea is an idea management software that offers your employees the opportunity to express themselves, develop their ideas and become true entrepreneurs.
Ideation Management & Platform
As a collaborative idea management software, innosabi Idea offers your employees the opportunity to express themselves, develop their ideas and become true entrepreneurs!

Internal innovation is harder than it looks. Indeed, from the gathering of ideas to their selection right through implementation, each stage has its share of difficulties. innosabi Idea allows you to streamline and structure your ideation process. Our solution comprises all our expertise in collaborative innovation to save time and gain in quality.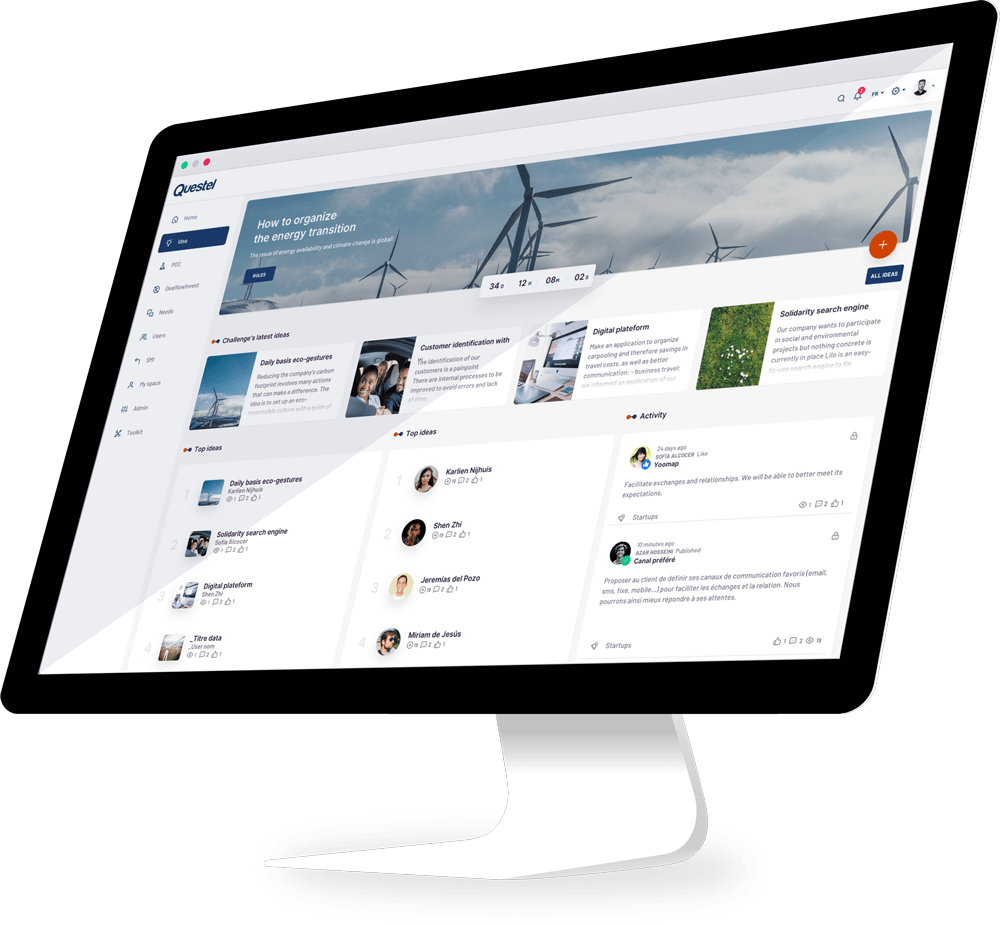 Stimulate your employees' commitment and reveal their potential

Reconnect to ground needs

Ease interactions and collaboration

Select and share your company's best practices and innovative projects
Creation and management of internal challenges
Start campaigns on current challenges in your company in order to integrate your employees' ideas in a targeted and proactive manner.
Set direction and collect ideas
Define the thematic framework and the period of the campaign regarding your business goals. Give your employees orientation to guide their ideas and knowledge to the right places in the company.
Strengthen collaboration and decision making
Use the possibilities of open discussions to stimulate collaboration between your employees. Comments and likes improve the development of ideas and help you to make informed decisions.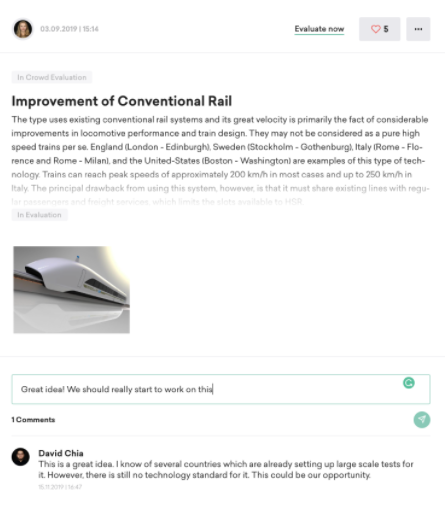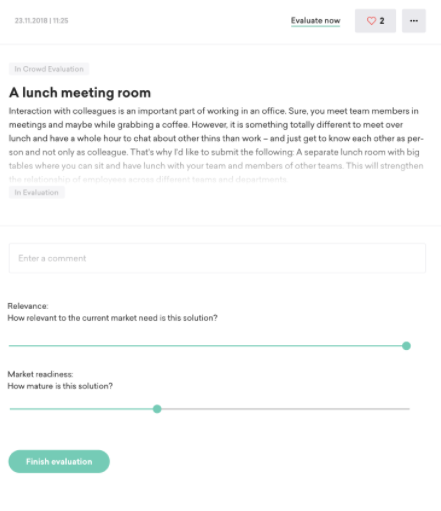 Review, enrichment and selection of ideas
Create digital, smart idea management that motivates your employees to get involved and appreciates their suggestions for improvement.
More quality and transparency
Implement transparent processes to increase employee motivation and use the innovative power of open discussions to improve the quality and quantity of the suggestions submitted.
Quantitative growth
Scale the number of participants and ideas while maintaining the same effort for the reviewers. Use the convenient function of a digital idea management software for the entire process from submission and evaluation to awards.
Expand your innovation campaigns with virtual crowdfunding and accelerate the financing and implementation of promising ideas.
Virtual budgets for quick decisions
Equip your employees with virtual budgets and let them participate directly in decision-making. Idea generation, prioritization and implementation thus interlock even more.
Full control over the financing process
Use different funding formats and goals to stay in control at all times. Get the perfect digital extension to existing accelerator or entrepreneurship programs.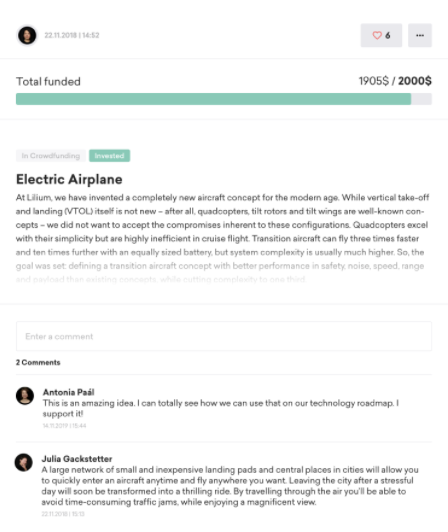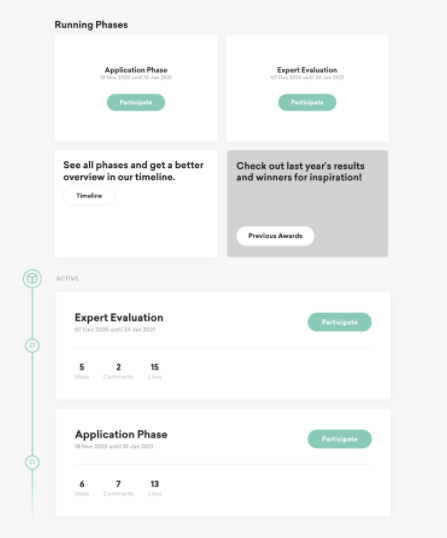 Rewarding Employees for innovating
Reward the performance of your employees and give them the attention they deserve through awards or ceremonies.
Cross-organizational innovation culture
Anchor the importance of innovation in the minds of your employees by making the presentation of successful ideas and the communication about the awarding process in the company public.
Identification with the company
Increase your employees' sense of belonging to the company and its success with awards. Give them an active role in evaluating projects and achievements that deserve recognition.
Become a pioneer of future developments by making use of trends and growth potential for your own innovation projects at an early stage.
Deep insights
Discover future market developments in various industries and make the individual trend assessment of your experts the starting point for the strategic realignment of your company.
Tangible competitive advantages
Connect your employees with potential cooperation partners who have ground-breaking innovations and technologies. With a powerful database you are always one step ahead of the competition.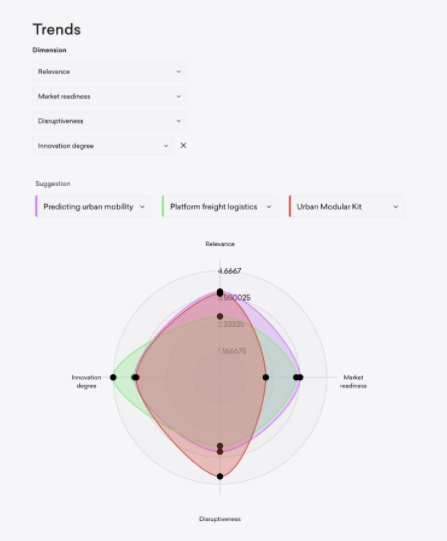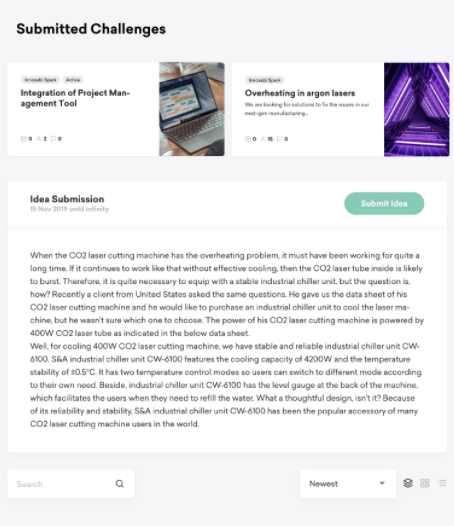 Enable your employees to actively search for solutions and make their expertise available across departmental boundaries.
Connect problem and solution
Support your employees to make current problems visible in the company and use customized campaigns to help them to specifically identify people with the relevant specialist knowledge.
Increased efficiency by dismantling silo structures
Prevent the time-consuming development of solutions to problems that have already been solved elsewhere in the company. Establish an intelligent database for future challenges.
Autonomous management of external challenges
Source efficiently external projects through thematic calls for projects. Select the best applications in an intuitive module.
Monitoring and reporting
facilities
Follow the evolution of your portfolio and measure your KPIs with statistical dashboards and various exports. 
Explore the full innosabi Software Suite
Learn more about all our innovation management software to help you build better Business Intelligence, internal and external collaborations.
Discover our related content
Let's talk about your Innovation business.
A demo will be customized for you!
Get answers to your unique questions, and find out why Questel is the right choice.