BLOCKCHAIN AND INTELLECTUAL PROPERTY MANAGEMENT SOFTWARE
Blockchain-based timestamping and protection for trademarks, designs, copyright and more
Gather proof of existence for your IP rights with our cutting-edge blockchain technology.
Markify Blockchain provides proof of existence of all kinds of IP assets, including trademarks and designs, copyright, and patents, trade secrets and know-how. Files are stored on the blockchain, a decentralized digital ledger that provides a chronological record of transactions in near real-time. By recording and timestamping evidence of IP rights and ownership, the technology enables users to protect their valuable assets securely and effectively.
Blockchain and intellectual property
The blockchain offers the opportunity to timestamp the creation of all types of IP rights to establish irrefutable proof of ownership and prior rights. Markify Blockchain offers a quick and easy way for IP creators to access the blockchain securely:
Discover our blockchain and intellectual property best practices and handy tips
Your file is encrypted and store in a blockchain, a digital, immutable, and ditributed ledger that chronologically records transactions in near real-time ans which is secured by advanced cryptography and consensus mechanism.

Any kind of file can be uploaded without size or format limitations.

Each file is encrypted into a SHA256 data file with a unique cryptographic code–or fingerprint–that only the key holder can access.

Once the encrypted file is received, we record your cryptographic fingerprint in the blockchain.

The upload provides proof that your file existed at a precise date and time.
Every time a change is made to your file or record, you can click on 'timestamp a new version' to keep a complete audit trail.
Blockchain and intellectual property: Key benefits and capabilities of Markify Blockchain
Track your blockchain records in real-time
Keep on top of your time-stamped files with our automated dashboards and reporting function, and create your own dashboards on demand.
Access proof of existence
Quickly access proof that your data existed at a precise time and has not been tampered with!
Upload any kind of file, without limitation on size or format (pdf, docx, audio or video file…). We'll generate a unique identifier, 100% counterfeit-proof.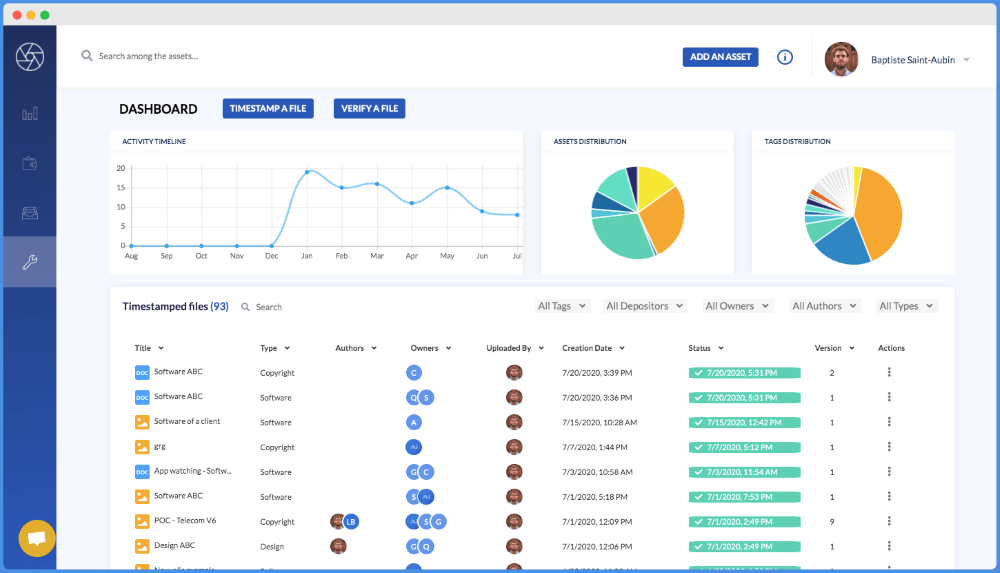 Discover our related products and services
Manage your trademark and design portfolio effectively with our dedicated IP docketing system.
Screen your trademarks quickly and effectively with our AI-driven search technology.
Discover our cost-efficient and fully secure trademark, design, and domain name renewal services.
Find out our related content
​Let's talk about your IP business.
A demo will be customized for you!
Get answers to your unique questions, and find out why Questel is the right choice.