Leading IP in turbulent times
Outsourcing Patent Search, Drafting & Docketing
Insights on IP initiatives ready to be deployed
TAKE YOUR IP GOALS TO THE NEXT LEVEL; RELEASE YOUR TEAM FROM THE PATENT RESEARCH BURDEN!
Let's talk about outsourcing patent searches for 1 min!
Today, we will focus on why you should hire a patent search firm. Check out Sean M.Augustine's expert advice.
Sean Augustine brings 20+ years of experience in both intellectual property research and management in diverse technologies and industries. He and his team collaborate with their clients to deliver quality and, timely results to ensure client success and retention.
PATENT APPLICATION DRAFTING SERVICES - PROVEN QUALITY WITH COST EFFICIENCY
Questel's patent drafting services enable corporates, universities, research organizations and individuals to secure their inventions in a timely and cost-effective manner.
This is achieved by our team of experienced IP professionals who have drafted hundreds of patent applications in various technology domains serving some of the most reputed fortune 500 companies across the globe. We follow a rigorous process with multiple quality checkpoints and manage various stages of the patent drafting process effectively to produce high quality patent applications.
Watch the video to see the processes for timeline and quality confirmation.
A Trusted Expert Patent Application Drafting Team
Multiple Patent Application Drafting Options
Process Flows, Quality Control and Timelines
Success Stories
Fill out the form to watch the video
"SETTING-UP AND RUNNING A DOCKETING MANAGEMENT SYSTEM IN HOUSE CAN BE ONE OF THE BIGGEST CHALLENGES THAT YOU FACE"
Let's talk about IP administration outsourcing for 1 min!
Today, we will focus on why outsourced docketing can simplify your life. Check out Thelma Acheriel's expert advice.
Thelma has about 15 years of qualitative hands-on experience in setting up and running paralegal operations for various corporate and law firm clients from various jurisdictions.
[eBook - Paralegal Services]
CASE STUDIES in IP ADMINISTRATION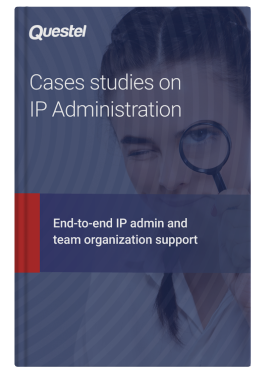 END-TO-END IP ADMIN AND TEAM ORGANIZATION SUPPORT
The intellectual property admin services team at Questel helps its clients to attain greater cost efficiency, working as their extended team and, imbibing their organizational values into Questel's ways of functioning.
From standards services like proofreading, docket management, document preparation to projects that could entail performing ad-hoc data transfer, data validation, file creation projects or working as full-time paralegals for attorneys, we deliver as per your needs and adapt to your requirements.
Read about 3 projects we have carried out with our clients!
Access 3 case studies on IP Administration: 
Fill out the form to speak with our experts
Book a fREE consultation with our experts
A unique IP services platform.
2000+ experts, translators, agents all over the world.
Keep up to date on our latest news and discover best practices through webinars, interviews with experts, eBooks, articles and testimonials.